I've had some R&D experiences in life: Some successful, some not so much. In one of those experiences, my mission was to implement a series of new products, with which the company had no familiarity. Those were products that I knew with my eyes closed, because I had spent my entire life producing them.
I was coming from a controlled environment, where continuous improvements occurred by the team's own maturity. We had worked many years together, and that gave us the confidence and the opening to come to the colleague's desk and say, "Jane Doe, today's report is missing" or "John Doe, you'd better include this routine in your process because it's impacting my area".
That was the world where I lived in: subject to improvements, open to learning, but safe. Predictable. Simple processes that produced simple products. The same processes and similar products to the ones that I was asked to implement in another company.
I thought: a piece of cake. Child's play.
This is smooth, I'll nail it.
Poor me.
The infamous last words.
The experiment was very difficult. Even the simplest products was subjected to ridiculous mistakes – like, Buyer buying wrong raw material, because the name was similar. Or not having the means to do the planned releasing analysis. Or the product ending up totally unrecognizable, to the extent that no one knew what had been produced.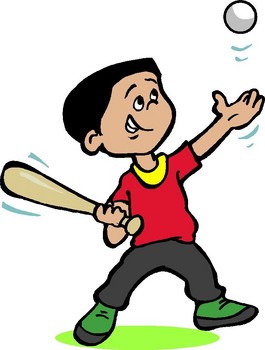 I was applying the knowledge I had from previous experience, but the scenario had changed a lot. Instead of an experienced team, I dealt with a team yet in learning (on that new process).
Ie: my old methods did not work here (remember the learning mindset? Well, I was using the opposite competence to it).
My new colleagues did not know the port where we were heading, much less they had experience to see information gaps, predict errors, suggest improvements. They did not stop the process when they had not received 100% of the information needed – simply because they did not know how much information was needed.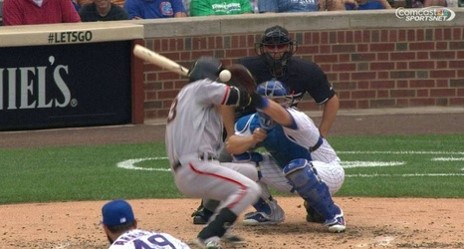 Then the process came out incomplete from R&D, and it ruined itself even more as it ran across the other sectors. Guess where the bomb would burst?
That's right, back in the R&D. There were so many "fires" to put out, that some people even say the name of our sector was not R&D – it was "river bend". Have you noticed all sort of trash gets stuck in river bends?
Turns out the problem was precisely in the R&D department.
At a certain moment, I had to sit down, breathe and look inward. I couldn't believe that after so many years of achievements and progress, I couldn't fulfill my goal. That's when we decided to rethink everything that R&D did until then: roll up our sleeves, unite with the QA department and put ourselves in a teaching role.
We were yet a learning organization: everything we did, we were doing it for the first time. When we do something for the first time, we're learning that. The critical point of view comes only after the construction of that learning.
Taking that into account, we reformulated what the R&D needed to get ready beforehand so that process would have a smaller chance of "crashing". The communication with the other areas was greatly improved, and that made everyone's learning easier (and, guess what: I learned a lot in the process. I learned a lot about the new company where I was working, about how their processes worked and how they interconnected).
On this post, I want to share with you what I learned on this journey. If you are setting an R&D sector in a company, if you will work with R&D consulting, if you will start to do R&D in your company, if you just got a new job in a company and want to know if the process is running well, take a look at the list of deliveries you have that do to launch a product (and not have to put out fires afterwards).
It's not just formulation and packaging, pal. R&D goes way beyond that.
Come with me.
ALL THE DELIVERIES THAT R&D SHOULD DO TO STOP PUTTING OUT FIRES
DELIVERIES RELATED TO FORMULATIONS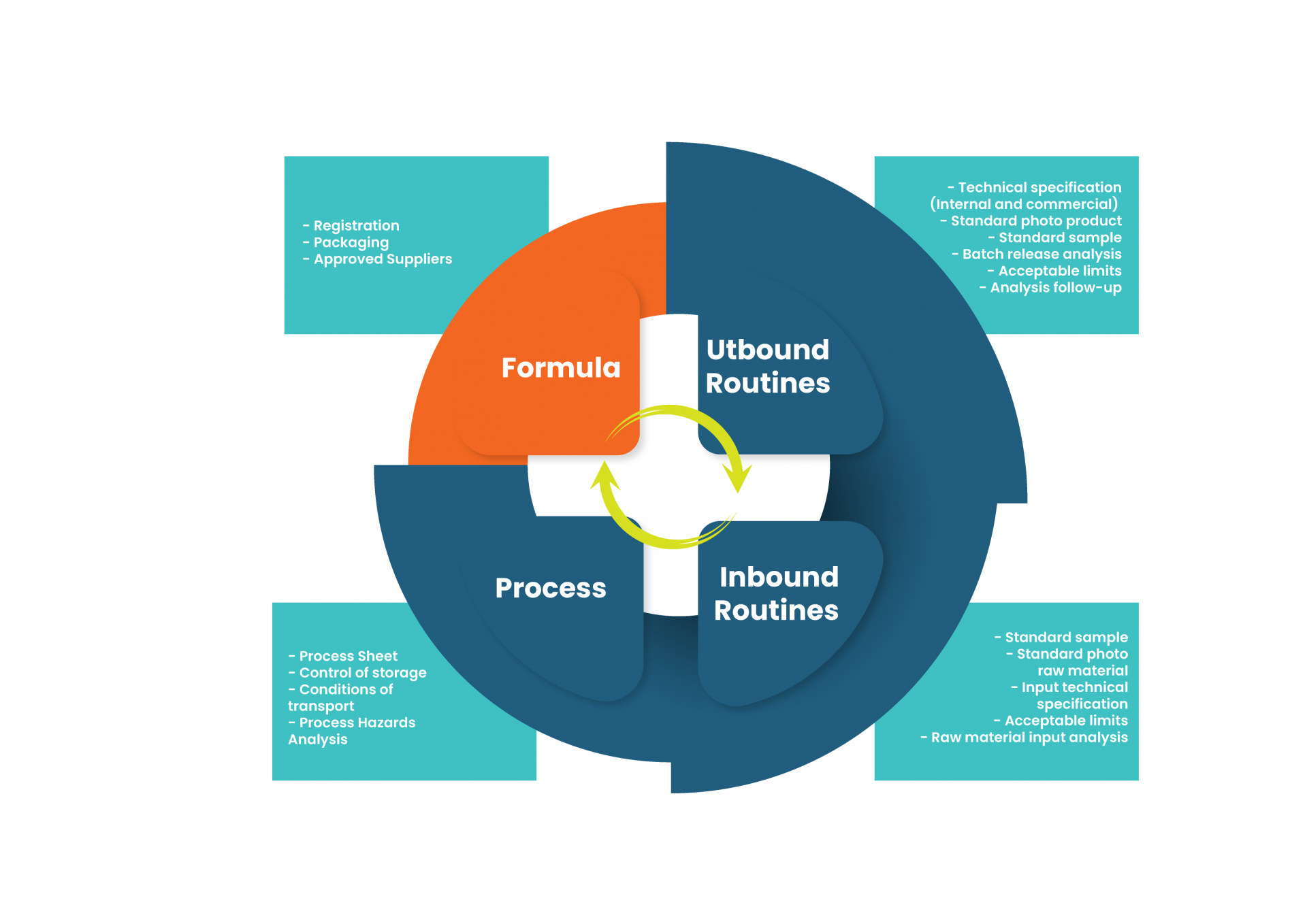 1. Registration
Who does the product registration in your company? My best experience in this was the record being conducted BY SOMEONE FROM R&D.
Revolutionary?
No, just more convenient.
"Ah, but Sra. Inovadeira, what you're saying is madness, my company is huge and has an area entirely dedicated to registration. Putting R&D to do that is insane. That's not even R&D".
Okay, buddy.
Now think about how much the rework costs if that dedicated area makes a wrong record.
Ultimately, the formulation is R&D responsibility – so if another area does it for them, guess what that means? Possibility of errors, need for verification and, often, auditing.
Oh, another reason for registration to stay in R&D: Remember the systemic vision? There's no better way of understanding the company's interfaces, the intricate consequences that a record generates than having to make a record yourself.
If you've never done one, try. Then we'll talk about it. 😉
2. Packaging
Kind of obvious, products are developed with packaging – but I would like to remind the colleagues that the products need primary packaging, secondary packaging, transportation packaging, packaging for material in process, for material for reprocessing, for intermediate product, for disposal… If all this was not previously mapped for your company, as an umbrella for the product line you are developing, you know: you have to deliver them all.
3. Approved Suppliers
What's the use developing a product, if the company doesn't have anyone who to by the raw materials from? I answer: no use.
So, buddy, at the end of the development please deliver all the suppliers already approved and their alternatives (at least for the new items), the supply arrangements made (for example, if you needed support from the supplier in the development and will reciprocate by purchasing exclusively from them in the first months of the product's life), and risk assessment BY SUPPLIER (because you knows that different suppliers have different control measures, right?)
Easy? Let's go on.
PROCESS-RELATED DELIVERIES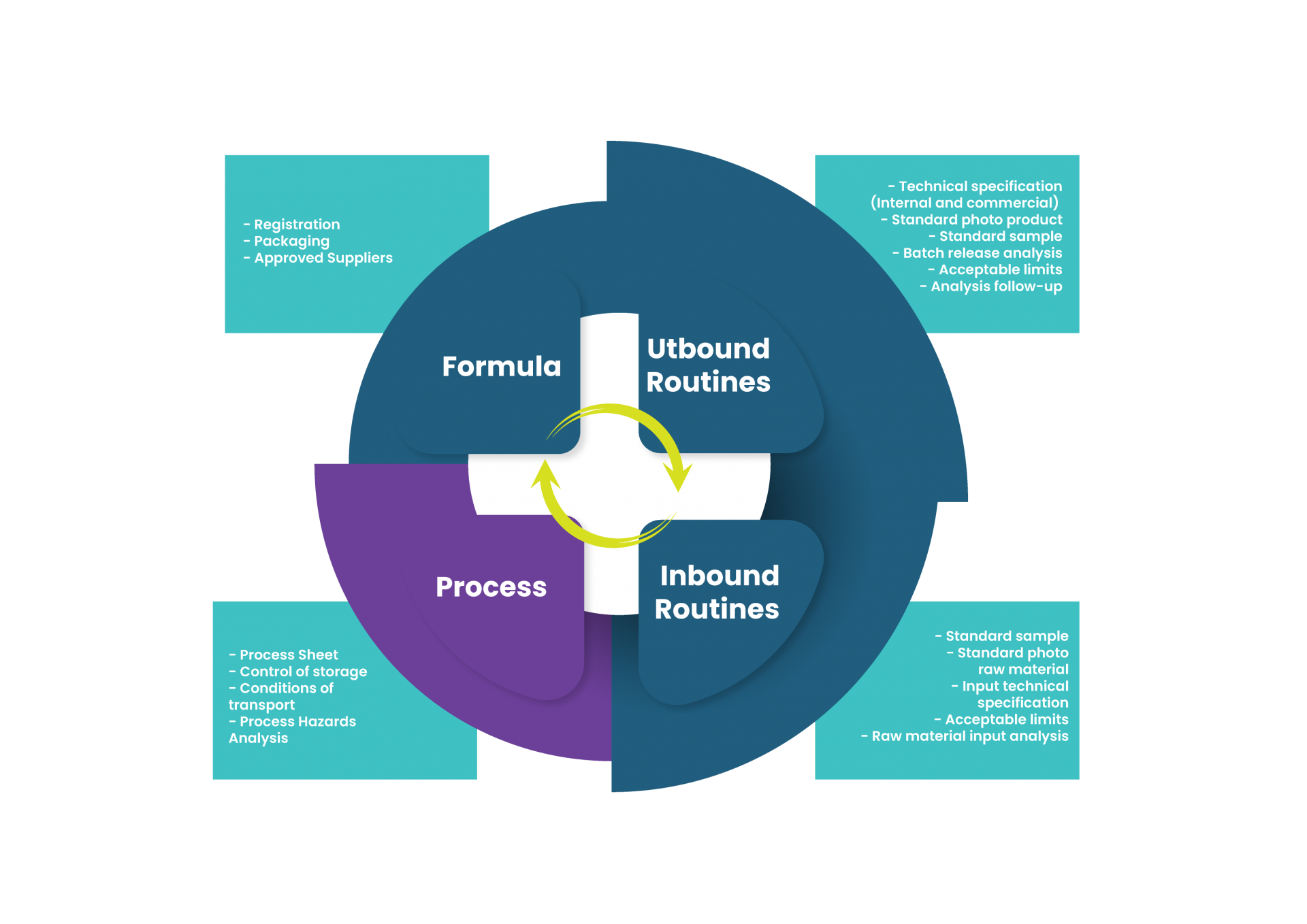 1. Process Sheet
This is one of the key documents of the quality management system, which indicates to the Production team a general map of how to produce the new product. It might have different names according to the company, and may not even be a single document. What it should bring, minimally, is: the process flowchart, the rework flowchart, the estimated treatment of deviations, the analysis for batch release (or monitoring analysis, in continuous lines), the recommended PPE (do your homework with the Occupational Safety team and be happy), pre, post and operational sanitation plan (in case the existing plans will need changes), and the conditions for transportation, handling and storage of the finished product, including the validity of the product.
2. Process Hazards Analysis
In conformity with the company's Food Safety Management System, the analysis of process hazards may or may not be attached to the process sheet. It doesn't matter: It is R&D's role to prevent the introduced hazards and to establish control measures to mitigate them. Typically, that preliminary analysis should be submitted to the approval of the company's Food Safety Coordinator to be approved and incorporated into the Food Safety Plan.
However, I emphasize: it is crucial that R&D perform this analysis BEFORE sending the product to the production line – you won't want to find out that you have contaminated a whole line with Salmonella because your lethality step was not as lethal as you thought.
3. Industrial Release Specification
This is another key document of the QMS and may be combined with other documents from the list. In this case, the document defines for production and quality teams which analysis, release ranges and methodologies should be employed for the industrial release of the new product. Production monitoring analysis are also specified, especially for on-line products or for those with long process times, or those that undergo reactions or predetermined changes during production (a very clear case here are the monitoring analysis of Hydrolysis, fermentation, filtration, drying etc.).
Are you still breathing? Let's go on.
DELIVERIES RELATED TO OUTBOUND ROUTINES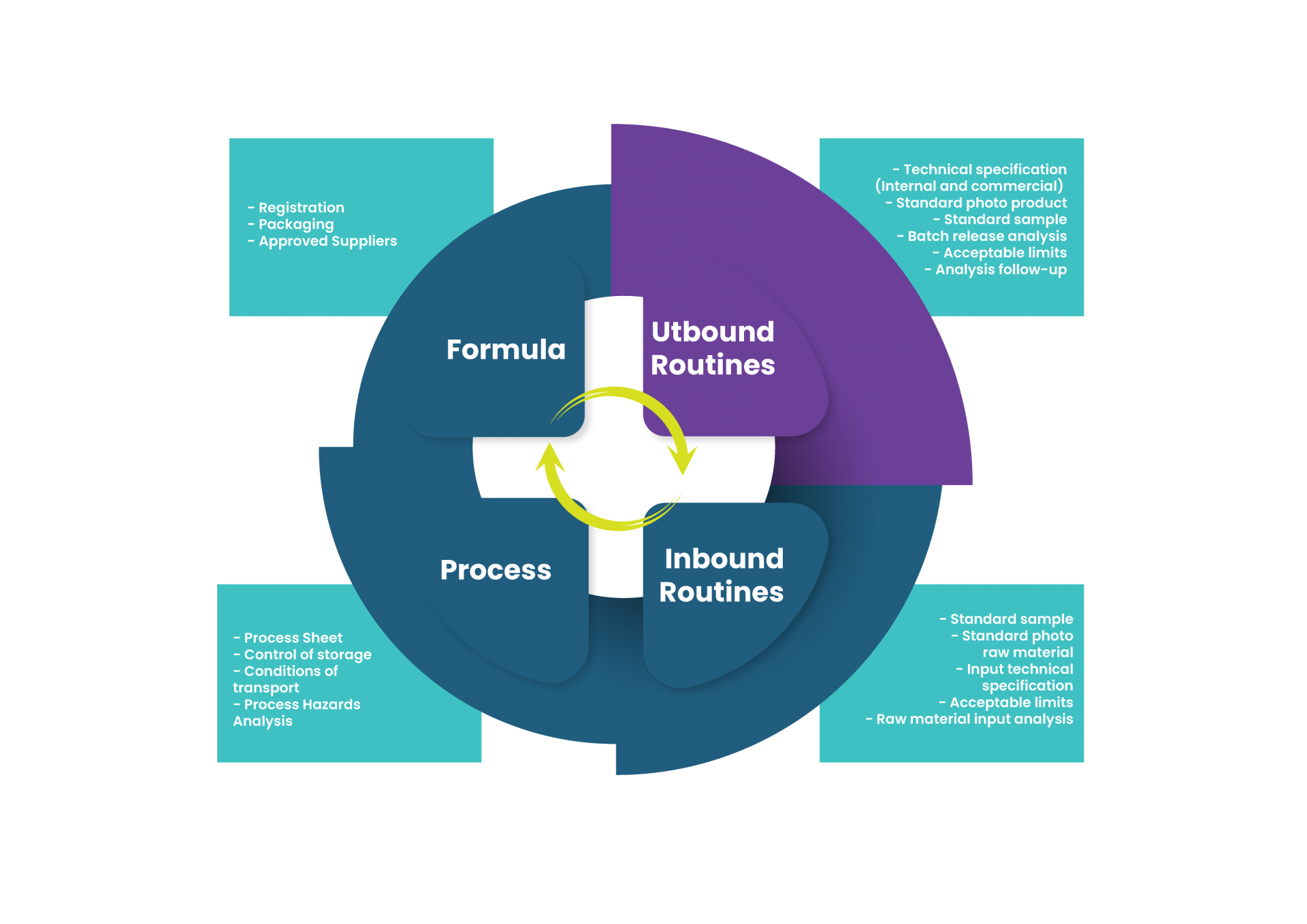 1. Internal technical specification of finished product
This document puts together, for the quality team, all the conditions that the product should present in order to be released on a shipping inspection. It is one of the most important documents of the QMS, because this is the last step between the company and its client – the moment when someone inside can still detect an unwanted deviation that wasn't caught before. So, here, we are talking about: product description, analysis, release ranges and methodologies, intended use, packaging (primary, secondary, transportation) and other market requirements. A good practice is to use more restrictive release ranges in this document than the market/legislation demands – this way the legal/commercial compliance is guaranteed.
This document should be a picture of the ideal product and should be sufficient for the analyst who accompanies the shipment or release of the product to make an appropriate decision.
2. External technical specification of finished product
This is the document for communication with your client – here you signalize the compromise between your company and your client of what will be supplied. It is also a key document of QMS and, as mentioned above, may contain wider release ranges than the internal specification. It must contain the fields: product description, analysis, release ranges and methodologies, intended use, packaging (primary, secondary, transportation), other market requirements, and also the risk communication (if risk was not 100% mitigated within the company, which is common when we talk about allergens, for example), validity and recommendations for preservation, and the company's disclaimer.
3. Representative sample of the standard product
A good practice is to deliver a standard product, which is usually stored in the Quality Control department (after all, it might be complicated to say that a product meets the specification if no one has ever seen a standard product before, right?). This delivery may be a real sample of the product itself (highly recommended), but may include pictures of the product as well.
Don't forget to deliver a sample of the standard packaging also – what good is it to develop a beautiful packaging design, if no one will check out if it is being printed correctly, right?
Are you still with me? There's only one more group left.
DELIVERIES RELATED TO INBOUND ROUTINES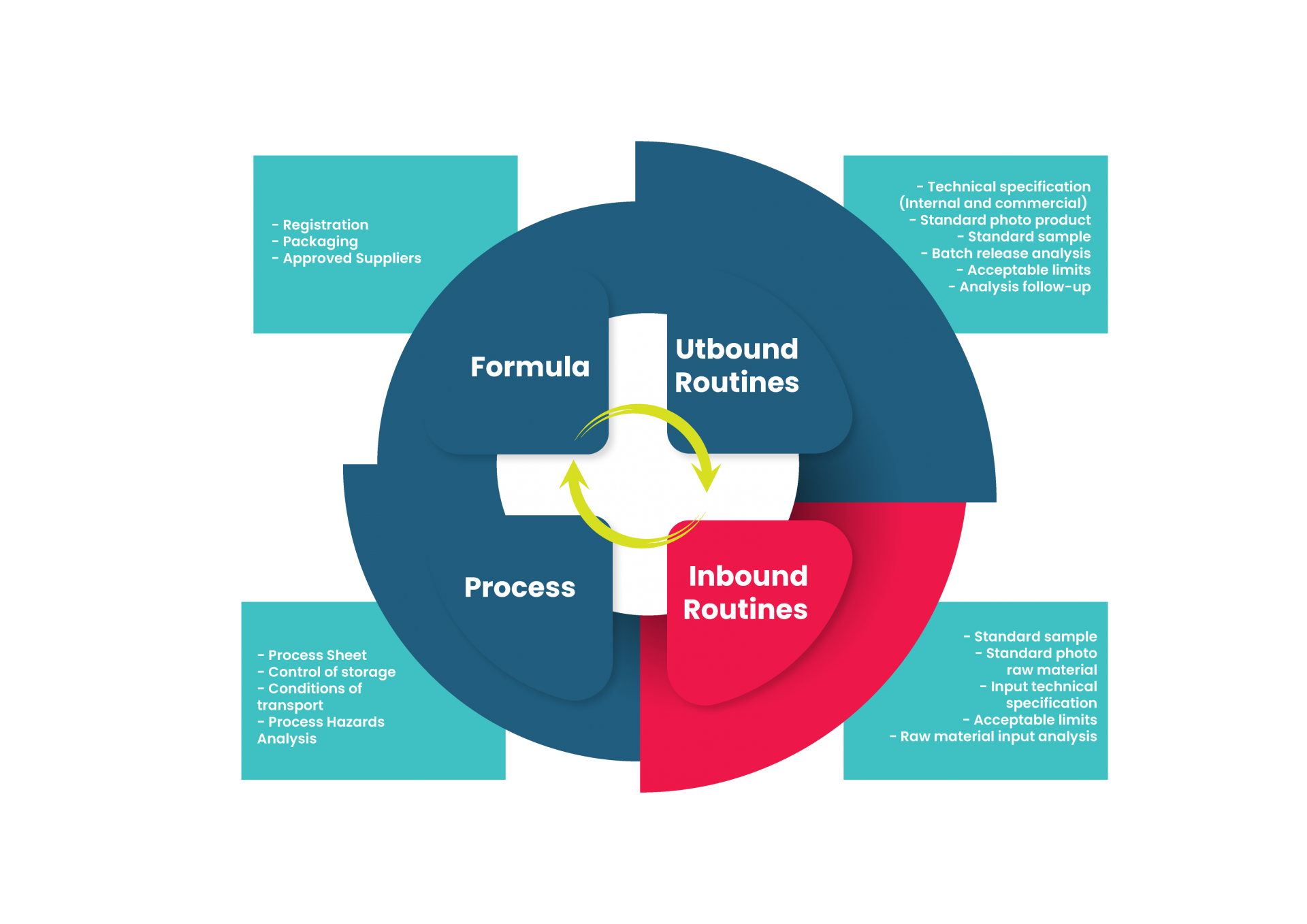 1.Raw Material Hazard Analysis
Have you added a new raw material to the process? There's no way out: do your homework. It is very important that the analysis of raw material hazards is made by R&D – after all, it is in this step that the decision is taken for the introduction of a new allergen or a raw material with high risk of contamination by some specific pathogen, or introducing an additive that will  cause a change in the chemical contaminant management plan. In other words: you can't let the bomb go off in the Quality department and pretend you're an angel, no, mate. Do your homework, and be aware when adding new raw materials.
It is worth to emphasize that every new raw material adds a level of complexity to the system, in almost all sectors: Procurement, Warehouse, Quality, Production. To be aware of that, to introduce new materials only when necessary for the project and to do that in a robust and planned way is to exercise your systemic vision.
2. Representative sample of the standard raw material
Similarly to the standard product, deliver a sample of the new standard raw material to quality control team – preferably in physical form. Add photos and deliver a sample of the expected packaging. That helps the release personnel to accelerate their learning curve with this raw material and reduces the possibility of errors in the process.
3. Ingredients technical specification
This is another key document of the QMS and may have several models, including or not the other two deliveries quoted above. This document should serve the Quality team, in the same way as the Internal Technical Specification of Finished Products, for information on all the conditions that the product should present in order to be released on an entry inspection. Minimally, it should include a product description, analysis, release ranges and methodologies, intended use, packaging (primary, secondary and transportation), other market requirements, and the transportation, handling and storage conditions for the raw material in question.
Phew, we've come this far. What did you think of the list? Does it contemplate all the deliveries that you and your team do nowadays?
If you have got to a process for which this list is not complete, doubt it. There may even be variations between the companies, but the company that does not need this information to launch a new product is yet is to be born.
I, however, learned that performing at least these deliveries, it is possible to drastically reduce the "PUTTING OUT FIRES". And I saw myself A LOT MORE free to develop new products after that 😉
If you want more tips on how to organize the R&D sector so you can live a more peaceful life, stay with us. I have already spoken here about a very simple tool that will help you to overview all the present and past R&D projects – and not to lose the track of any of them.
Oh, and remember: the integration between R&D and Quality is one the causes I fight for! You can read another of my texts about it at Food Safety Brazil.
In Practical Training for Food Innovation Professionals, we detail each of these deliveries in classroom so that you can get rid of the fires in your company ;). Come take a face-to-face course with me!
Events in Food Innovation: Besides face-to-face courses, did you know that we regularly promote free online events to talk about innovation, research and food development? Check the event page and find out how to register for one of the next (hint: there are three going on next June!)
Compartilhe esse artigo. Vamos revolucionar o mercado de alimentos!
Juntos podemos causar um grande impacto através de pequenas ações: compartilhe e espalhe a mensagem.
Receba a planilha exclusiva e gratuita para Gestão de Projetos de P&D!
E mais: participe da comunidade privada de +4000 visionários de alimentos que recebe dicas e insights exclusivos.
Sem spam. Só inovação.